Joe McElderry Review as Joseph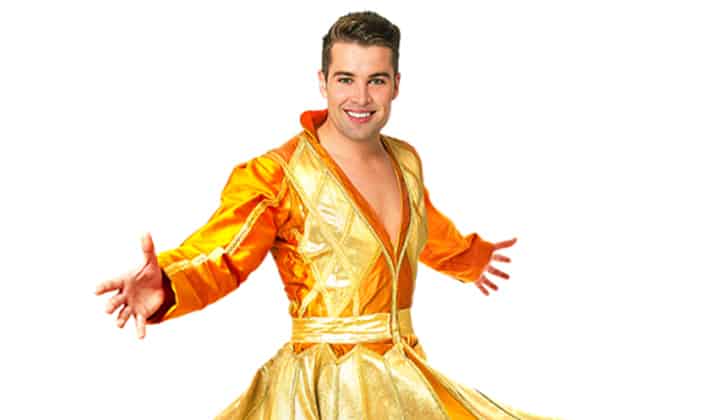 Review: Joseph and the Amazing Technicolor Dreamcoat
It's a musical that has existed longer than many of the students at Staffs Uni. But the Regent Theatre's opening night of Joseph and the Amazing Technicolor Dreamcoat was so energetic and fresh that it could have been written yesterday – with X Factor winner, Joe McElderry stunning in the eponymous role.
The retelling of the Biblical tale of Joseph takes on a few modern twists in the stage production (written by Tim Rice and Andrew Lloyd Webber), giving it widespread appeal. The eleventh of Jacob's twelve sons, Joseph is favoured by his father (Henry Metcalfe) and thus hated by his brothers. From living the high life in his coloured coat, things take a turn… but hope is never lost when one holds onto their dreams.
Bursting with colour – from its dramatic costumes to its flashing lights – this fast-paced classic immediately draws you in. But no part of it is more captivating than McElderry's world class performance as Joseph. Winner of the X Factor in 2009, when he was just 18-years-old, the sheer range of McElderry's voice almost excels adjectives. Emotive and soulful, his powerful (and mind-blowing) rendition of Close Every Door leaves a lasting impression, while he brings an entertaining exuberance and big smiles to the lead role.
Also, a standout was narrator, Trina Hill. While McElderry was undoubtedly the star of the show, her flawless voice did not miss a note, with her stage presence – understated, yet commanding attention – making her incredibly engaging.
The timeless production is a feel-good viewing of lively dance routines and well-delivered humour (I had listened to the songs previously but still laughed out loud on multiple occasions.) Still, one or two components won't suit everybody. I was surprised at the exaggerated sexualisation of Mrs. Potiphar (present briefly) in what is a family friendly musical, while an Elvis Presley-style Pharaoh is rather like Marmite: you'll either love it or you frankly won't. Nevertheless, the brilliant Ben James-Ellis – who reached the semi-finals of BBC's Any Dream Will Do ten years ago, coming inches from the role of Joseph – pours all his enthusiasm and acting prowess into his interpretation, and it demands appreciation.
All in all, the show remains a success: from the relentless energy of the gang of brothers to the fantastic children's choir. The set needs little more than two flights of stairs and a starry backdrop because it's the dressed-up talent upon it that brings the stage to life.
Hits such as There's One More Angel In Heaven, Pharaoh's Story, and Joseph's Coat will be stuck in your head for the rest of the evening – part of a jumble of musical styles that give the performance its unique, light-hearted charm. And the audience, unprompted, was on their feet clapping and dancing from the final rendition of Any Dream Will Do until the curtain fell.
There may be one more star in the sky, but this production deserves all the five stars it gets.
Ben James-Ellis Joe McElderry Joseph musical Regent Theatre Review Trina Hill