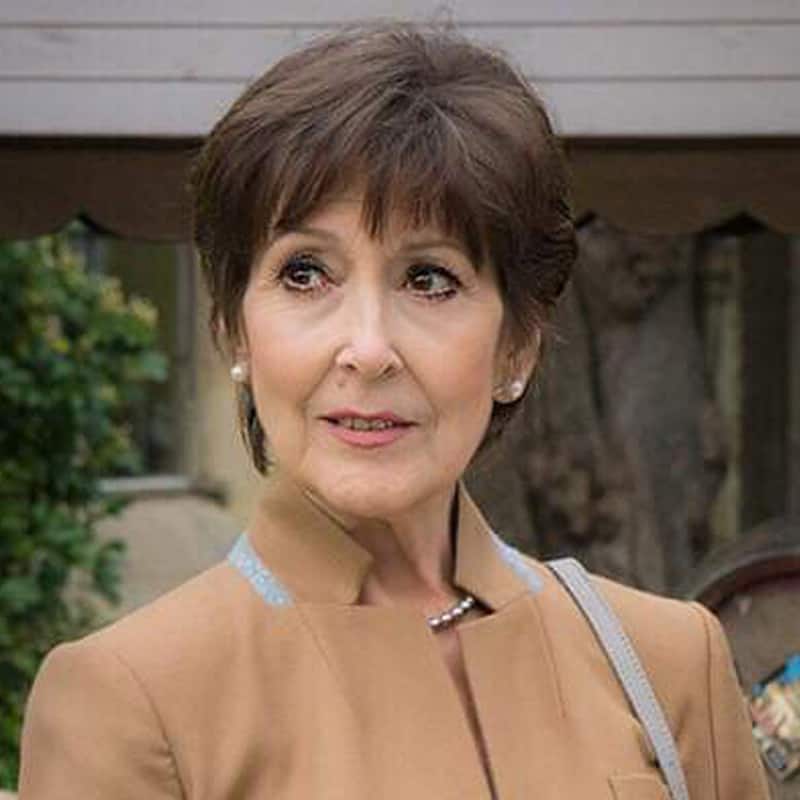 About Anita Harris
Anita Harris has portrayed many leading roles in plays including 'My Cousin Rachel', 'Bellbook and Candle', 'Stepping Out', 'Double Double' with Simon Ward, 'Come on Jeeves' with Victor Spinetti, Agatha Christie's 'Verdict' and 'Unexpected Guest' with George Sewell, Francis Durbridge's 'Suddenly at Home', Miss Hannigan in 'Annie' with Mark Wynter, 'Five Blue Haired Ladies Sitting on a Green Park Bench', 'Fatal Encounter' and previously for Bill Kenwright, Elizabeth in Ruth Rendell's 'The House of Stairs'.  Also seven Royal Command Performances requested by the Royal Household.  Anita's performances as Grizabella in Cats are lauded in London's Theatre Museum.  She starred frequently at the London Palladium. The Cannes Palm Beach Casino bestowed on her the soubriquet 'The Flaming Comet'.
Films and Television include
Classic comedies' Carry on Doctor' and 'Carry on Follow that Camel' with Phil Silvers. She played Beatrice Lillie in 'Remember Jack Buchanan', which won the Golden Palm at the New York Film Festival.  Anita's BBC2 TV Special 'The Television Machine' was the hit of the Montreux Festival. Many Television Specials with the likes of French and Saunders, Morecambe and Wise, Harry Secombe, Tom Jones and seven years of 'The Magic Box' with David Nixon. Most recently Anita was seen in 'Casualty' for BBC Drama and also in EastEnders as a clairvoyant. She has also recently starred in Celebrity 5 Go Barging for Channel 5 and last year 2018, starred in Lat Laugh in Vegas for ITV1. Anita has also appeared in Midsomer Murders for ITV1.
Her show 'The Act' won seventeen theatre awards and video of The Year.  As Peter Pan she broke British box office records. Anita's love of pantomime is shared with husband, record producer, writer and painter, Mike Margolis, creator of Anita's new Victorian thriller detective series 'The Casebooks of Verity Lake'.  Anita has continued to work on numerous pantomimes over the years including 'Sleeping Beauty' and 'Jack and the Beanstalk' both at Windsor Theatre Royal.  Anita and Mike are fellows of the Royal Society of Arts.  Anita's recordings have sold in multi millions; she holds many gold and silver discs for international chart successes and a double gold for 2 million plus sales of her record-breaking hit 'Just Loving You'. Her many albums are available on  iTunes and Amazon; 'The Essential Anita Harris', 'Give a Little Love at Christmas' and just released the CD of 'Anita in Jumbleland' on Strike Force Records and (as heard on the Jools Holland show).
Anita toured her 'Just Loving You' show across the UK with the Peter Gill Trio.  Having recorded with him a brand-new single of The Beatles classic 'In My Life' and 'Rockin Good Way'. Plus, guesting with Kenny Lynch on the David Alacey Sinatra Centennial Show and also with Piccadilly Dance Orchestra 'V for Victory' show paying tribute to Britain's War Heroes.
Anita is an Ambassador for 'Variety' The Children's Charity.
Anita is delighted to be back with the Bill Kenwright family.