Terry Phelan talks about his time at Maine Road, Peter Reid, Brian Horton and THAT goal against Spurs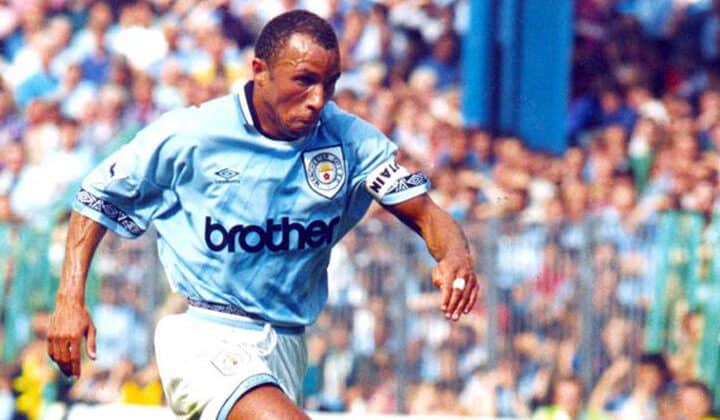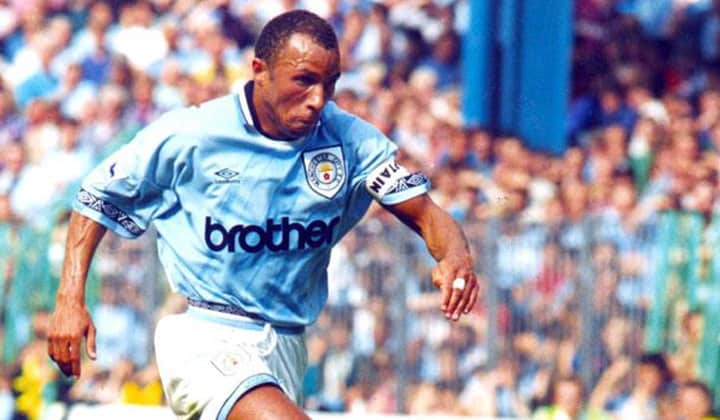 Taken from Manchester Evening News
Terry Phelan talks about his time at Maine Road, Peter Reid, Brian Horton and THAT goal against Spurs
Terry Phelan got out of Manchester City at just the right time. He left for Chelsea in 1995 and by 1996 City had been relegated from the Premier League and were rapidly on their way down the English football pyramid.
In 1998 they dropped to the third tier, the lowest point in the club's long history, before years spent yo-yoing between the top two divisions.
It was all very different to when Phelan arrived at City from Wimbledon in 1992. Peter Reid was in charge and the club was seen as upwardly mobile, looking to challenge for the title in the coming seasons, with big-name targets being sought. Phelan was sold the dream of success – but turmoil behind the scenes would see him come nowhere near silverware.
"I could have gone to Barcelona, Manchester United, Ajax, Tottenham – I could have picked my club," Phelan says in an exclusive interview with M.E.N. Sport. "I chose City because I liked what the club was all about and I liked Peter Reid as a player, coach and manager and what he was trying to bring to Manchester City.
"They'd done well under Peter. I think the first year he took over they finished fifth in the league. It was a no-brainer for me coming back to Manchester. "But there was too much change and upheaval. There was in-house bickering and fighting. There was a lot of changes in managers and different players coming in and out. It doesn't help.
"I joined City because I knew we had a squad to challenge for the title, otherwise I wouldn't have joined. Keith Curle wouldn't have joined. "They went on a mega slide after that. I don't think they'll go on a slide like that ever again – it was frightening."
Having helped Wimbledon win the FA Cup in 1988, Phelan established a reputation as one of the finest defenders in the English game.
Born in Salford, the opportunity to join City was too difficult to turn down. The £2.5m fee, at the time, was huge – but Phelan says it didn't add any pressure to the move.
"There was no pressure," he says. "I knew what I had to, I had to excite the crowd, get the fans of their seats. "Some people thought it was too much money, but for me it was about playing and enjoying myself and giving the supporters something – and what great supporters the City supporters were.
"It was the world's biggest fee for a defender – £2.5 million, plus whatever Sam Hamman added on – but it was about going to a club that was going somewhere under Peter Reid.
"Tony Coton was there. Niall Quinn. Keith Curle. David White at the peak of his career. We were living our dream of playing for a really, really big club."
His finest moment for City came in 1993 when he scored a wonderful goal against Tottenham in the FA Cup quarter-final.
He ran almost the full length of the pitch, brilliantly evading a number of challenges on the way, before calmly slotting home.
It's place in the pantheon of great City goals is secure.
"I was a bit upset that game," he remembers. "I thought this was the year I was gonna win a trophy with City.
"I was p****d off. I went over to Tony Coton and said 'look, Tony, just give us the ball'. We were losing after we were cruising the game in the first half. We fell to pieces in the second half for some unknown reasons.
"I picked it up, went straight through and slotted it home. Something to give back to the Manchester City fans on a sad day."
Peter Reid left the club in 1993 after finishing ninth in his second season and starting the 1993/94 campaign in poor form. Brian Horton came in – and City went on to play some fine football under a man who was a surprise choice.
They played with width and pace, a side full of attacking intent, with the start of the 1994/95 season a period that sticks out in the mind of the fans who were there to see it.
"We did well under him, played some fantastic football and we can't take that away from Brian. But the team came from Peter's time."
Phelan's post-playing career has taken him to the US and New Zealand, before his latest position as manager of Kerala Blasters in the Indian Super League. He has also set up a number of academies in the region, too.
It's an adventure he's enjoying. "I was over there doing a technical directors job," Phelan explains. "Then in November Peter Taylor, a wonderful man, left the club under difficult circumstances and they asked me to take over the first team, which has been a great experience.
"It's a mad football state. We get 70,000 fans on a good day If we're winning – the average is 55,000, so it's up there with the world's biggest crowds. I think it's about tenth in the world.
But Phelan feels Horton struggled to impose himself at City, having managed lower league sides prior to his appointment.
"I knew the club was in turmoil – but we tried to not let that affect us. Peter going was disappointing because we had been told this is what we have to spend, this is the players we want, which is what you want to hear.
"And then Brian came in. Big club for Brian and obviously expectations were higher. Did he get the dressing room? I don't think he did. I don't think he could. There were some big characters in that dressing room.
"I have five football academies up and running all the way through Kerala with about 850 students in them and 30-35 coaches. I do a lot of coach education now and the whole thing is growing."
For Phelan, it's just the latest chapter in a career that his seen him achieve his goals. "I wanted to play in an FA Cup final. I did that against a team of world-class players. "I wanted to play at a World Cup. I did that with Ireland in 1994. Now I'm just trying to give something back to the students of today, using my knowledge and experience of the game, and that's all I want to do."