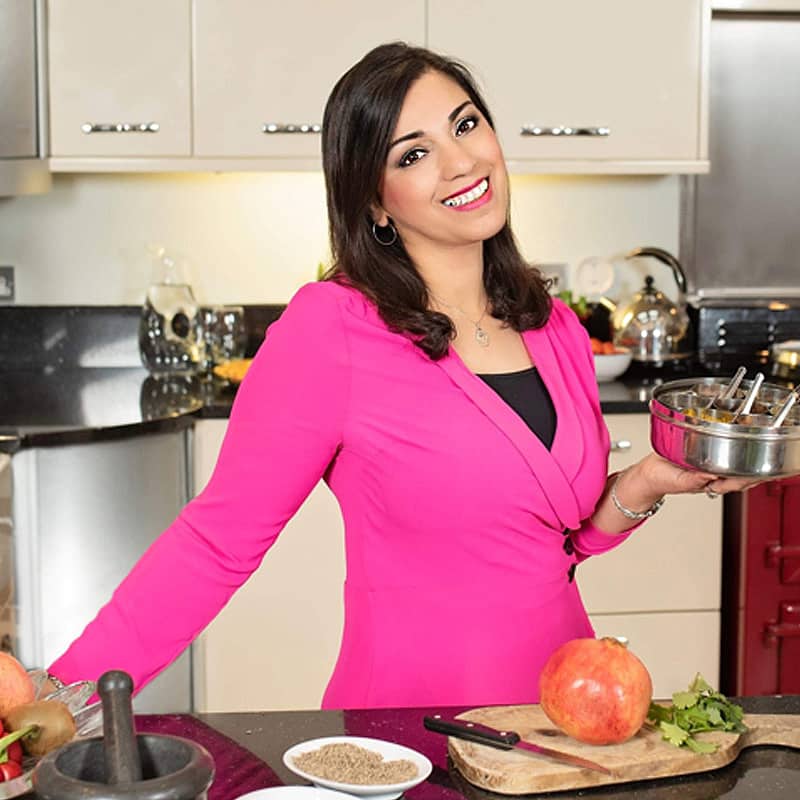 Parveen Ashraf (The Spice Queen) CHEF
Parveen aka The Spice Queen is passionate about her style of cooking. Her Indian/Kashmiri recipes are truly authentic and taste amazing. She has showcased her wonderful recipes on her debut TV show Parveen's Indian Kitchen which was aired on ITV on Sunday mornings from January 2019. The show was then aired in India, Australia, France, Germany plus many other countries.
She is a passionate home cook who celebrates everything about her culture as well as her cuisine. She inspired her late mother who herself was a wonderful cook. Parveen is a keen advocate of Indian home cooking and an accomplished cookery teacher, having taught all around the UK and Europe, her clients include celebrities and even royalty.
She has over 30 years of experience in the world of Indian cuisine and has a wealth of knowledge and experience. Parveen believes that with the right spice and the right method, anyone can learn to cook her authentic step-by-step recipes. This was evident when Parveen showed the nation how to cook in her first TV series. Parveen is an author and launched her first cookbook 'Parveen The Spice Queen, Step-by-Step Authentic Indian Cooking' several years ago.
As well as being an author, Parveen is also a chef demonstrator, private chef, and columnist. She is a fun-loving, glamorous, fifty-something, talkative Asian Woman. Although she is serious about cooking, she does not take herself too seriously and always sees the fun side of life. Parveen's first encounter with appearing on TV was in the popular Show 'Come to Dine With Me' which gave her a taste of being in front of a camera, which is quite at home.
Parveen is proficient in talkback and loves the energy of cooking on live TV as she spent over a decade demonstrating her own spice range whilst working on Shopping Channels like Ideal World and Hochanda. She appeared as a guest chef on The James Martin Show when she famously made him an Onion Bhaji butty. As well as TV, Parveen also enjoys live theatre and has made several performances, playing herself in The Chef Show, sponsored by The Arts Council, England.
Since the early seventies, Britain has been in love with Indian food and for nearly four decades the love affair continues, however, cooking it from scratch is still something people shy away from. Yes, we now have a huge range of curry kits and ready-made sauces gracing our supermarket shelves – but do people really have the confidence to cook Indian food from scratch, or is there a real fear factor? No need to fear, Parveen is here.
She believes that food breaks down cultural barriers and feels that she bridges the gap between East and West. She is immensely proud of both her vibrant Asian heritage as well as her very British upbringing. Parveen is more than happy to share an insight into her life as a wife, mother, and chef, demystifying Indian cooking and helping you spice up your life!